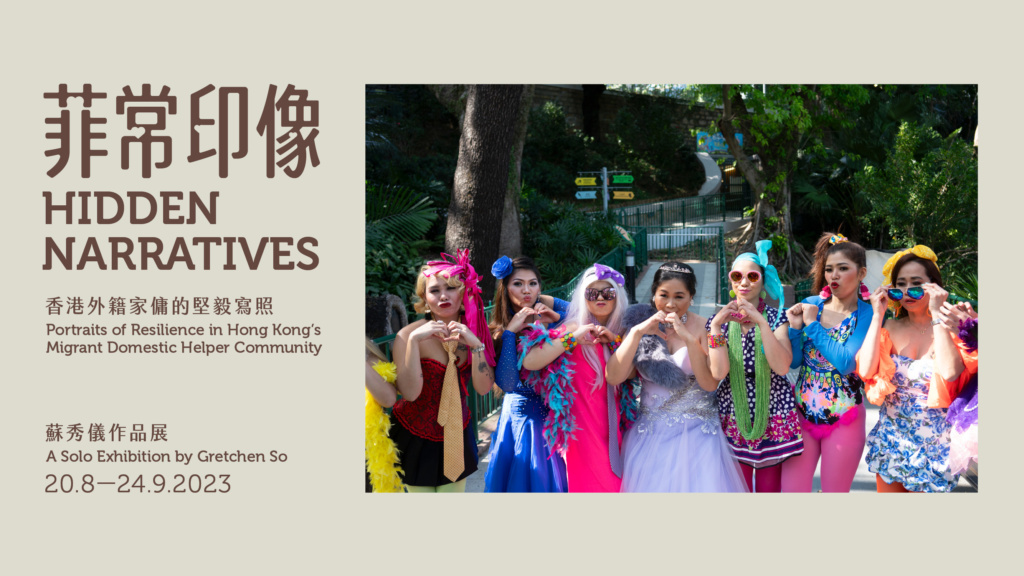 Hidden Narratives
Portraits of Resilience in Hong Kong's Migrant Domestic Helper Community
A Solo Exhibition by Gretchen So
2023.08.20 – 2023.09.24
Address: Lumenvisum|L2-02, Jockey Club Creative Arts Centre, 30 Pak Tin Street, Shek Kip Mei, Kowloon
Opening Time: Tue to Sun, 11:00-13:00, 14:00-18:00
Opening Reception: 2023.08.20, Sun, 16:00-18:00
---
Migrant domestic worker is one of the major migrant working populations in Hong Kong. They are far away from their homeland, and come to an unknown city with many challenges and difficulties, but they are still living and fighting for future with resilience.
Art photographer Gretchen SO is interested about the life of domestic workers during their leisure time. After working, what would they do in their holiday?
With a camera, SO walked around many locations where the migrant domestic workers gather, joining their activities to understand their life. The exhibition is a picture of how the migrant domestic worker live their life in a world that full of limitation: they dress up to welcome weekends' gathering in a park, to learn new skills for at the corner of a footbridge, to celebrate wedding on the rooftop…… those numerous ordinary moments are evidence that we, the Hong Kong people, are all living under the same sky.
A diversified community is based on respecting the value of existence of different people, and it comes from the understanding of people. The migrant domestic workers are not only worker, but they are also people living in the society working hard for dreams and future. Lumenvisum presents, "Hidden Narratives: Portraits of Resilience in Hong Kong's Migrant Domestic Helper Community", exhibits a series of photographs of migrant domestic workers' portraits by artist Gretchen SO, illustrating the life of Hong Kong migrant domestic worker, who live together with all Hong Kong people.
---
The migrant domestic workers began arriving in Hong Kong in the 1970s as the city was transitioning from a manufacturing hub into a modern financial center. Today, they constitute a significant population of nearly 400,000, predominantly women from the Philippines and Indonesia, making up 10% of the territory's labor force. These individuals often endure long working hours, a lack of privacy, and even instances of possible abuse. Despite these challenges, most of the foreign workers demonstrate resilience and optimism, embodying the indomitable human spirit and finding joy and meaning amidst adversity.
As a fine art photographer, I am fascinated by their leisure activities. On rare holidays, many domestic helpers seize the opportunity to pursue self-improvement, learn new skills, or engage in part-time work to save funds for their entrepreneurial inspirations or retirement. Their unwavering diligence, dedication, and resourcefulness are truly inspiring as they endeavor to build a better life not only for themselves but also for their families back home.
In addition to their demanding work schedules, foreign helpers also enjoy a vibrant and diverse social life. They dress their best and actively participate in various gatherings, finding solace in companionship and forming meaningful connections. They have built a community that provides support and encouragement to one another. My work captures the essence of their camaraderie, shared laughter, and friendships. They are not merely laborers but devoted mothers, daughters, sisters, and wives, silently shaping a brighter future for all.
This exhibition unveils the extraordinary journey of these groups, highlighting their cheerfulness and vitality. Although their individual experiences may differ, they all embody love, dignity, and perseverance. While they adapt and strive for a fulfilling life, they have a profound impact on the economic development of our city.Through this series of candid images, my aim is to foster a sense of shared humanity and inclusivity, deepening our understanding of migrant domestic helpers in Hong Kong. The audience is encouraged to contemplate our collective responsibility towards marginalized communities. By recognizing their inherent value and celebrating their positive contributions, we can create a more compassionate and equitable society.
Gretchen SO
---
About the artist
Gretchen SO
SO is a Hong Kong-based fine art photographer and educator. She holds an MFA degree from the Yale School of Art and has attended the MA program in Arts Administration at Columbia University. She has been awarded the Lila Acheson Wallace Scholarship from Reader's Digest, the Arts Administration Fund from Columbia University, and a full tuition waiver from Yale University. In addition to her administrative roles at the Museum of Chinese in American, New York and the Hong Kong Arts Centre, she has taught at the SVA, RMIT, BCU, SCAD, and other higher education institutions since the mid-90s.
SO's photographic work focuses on capturing the dynamic and ever-changing cityscape of Hong Kong. She has obtained numerous publication and exhibition grants from the Hong Kong Arts Development Council. Her work has been showcased in Asian cities including Shanghai, Guangzhou, Hanoi, Singapore, and Seoul, as well as overseas locations such as Wellington, Frankfurt, Vienna, Vancouver, Winnipeg, Toronto, New Haven, and Richmond. She was selected as a finalist for the Asian Art Prize in 2008, 2011 and 2013.
To commemorate the 150th Anniversary of the Hong Kong Zoological and Botanical Gardens in 2021, the Art Promotion Office entrusted SO with the creation of site-specific artwork for the "Hi! Flora, Fauna" project. She was previously commissioned by Nikon Asia for the 4th edition of the "Through Asian Eyes" campaign, which was curated by the Objectifs Center for Photography and Film in Singapore. One of her series, "A Thousand Messages," was featured at the thematic exhibition of the 4th Hong Kong International Photo Festival and acquired by the Hong Kong Heritage Museum.
Her current projects, "Nights in Suspense" and "Nightlife," represent another milestone in her artistic pursuit. They provide insights into Hong Kong's urban environment and city life at night. Her deep understanding of the subject matter was cultivated through her personal experiences of enduring long-term insomnia and severe anemia spanning a five-year period.