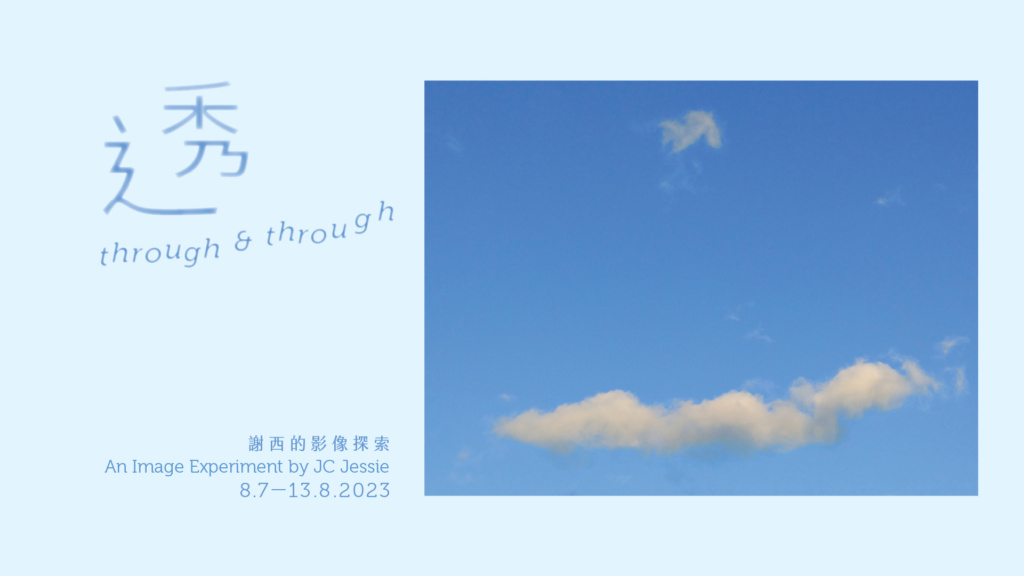 2023.07.08 – 2023.08.13
Address: Lumenvisum|L2-02, Jockey Club Creative Arts Centre, 30 Pak Tin Street, Shek Kip Mei, Kowloon
Opening Reception: 2023.07.08 4:30 pm

Public Sharing: 2023.07.08 2:30 pm
Moderator: Jeff Leung (Independent Curator)
Image Artist: JC Jessie
Curator: Gan Ting
Opening Time:
Tuesday to Sunday, 11:00-13:00, 14:00-18:00
Closed on Monday (except public holiday)
Online Registration
Opening Reception & Public Sharing: https://www.eventbrite.hk/e/671312903967
Plan your visit: https://www.eventbrite.hk/e/671355571587
---
"Through & Through" is an interesting phenomenon. It can either describe an ability someone process to discern thoroughly in various situations. Or, it illustrates something crystalline, flimsy, and gossamer-thin.  The idea of this project originated from my interest in "Clouds", a natural, multifaced, non-human generated transparent substance whose aesthetic, social, physical, and cultural interrelatedness with humans lead me into a state of stupefaction. 
Voidness after voidness, an endlessly fleeting moment of heaven and earth. If its changes can create a duplication of me, that is not me at all.
"Songs of the Floating Clouds" Lu Ping/Tang Dynasty
Human imagination and interpretation of "Clouds" can be fascinating & magical. Its unorthodoxy, nonconformity, and uncontainable nature attract our adoration, inspire our creativity, and facilitate our vision throughout the centuries. However, due to its unreachable, and untouchable nature, their individualism defines the boundary between the mundane and celestial realm. " Clouds" as a cultural symbol in Chinese tradition, have cultivated a strong value system from the ancient that dominates our daily beliefs, affecting our behavior, perception, and reasoning throughout the generations.
Chinese generally believes "Clouds" is a supernatural force of the sacred realm that brings prosperity. In other aspects, their appearance in literati landscape paintings enhances the classical aesthetics of arts, furthermore, on the gown and robe of the Chinese Emperors, they are also associated with the supreme sovereignty of the kinghood.
Being the sole heritage carrier of one of the Intangible Cultural Heritage in Hong Kong, my research attempt to draw from multiple disciplines to unearth the largely forgotten history of the Cantonese Opera Costume industry in Hong Kong, its Pattern Design & technique, and cultural impact led me to a root-searching journey in 2009. As the research brought forth questions about re-present and re-interpret such a rich context in vertical and horizontal cultural perspectives, it ended up steered into projects and documentaries commissioned by the Hong Kong Heritage Museum.
"Clouds" is one of the indispensable cultural symbols in the material culture of Cantonese Opera Costumes. In the past 6 years, I have been collecting research information as well as visuals of "Clouds" while traveling to Beijing, Shanghai, Hangzhou, Suzhou, Guangzhou, Foshan, Singapore, Malaysia, Hong Kong, and Canada, scrutinizing between "light & Shadow", "Self & Surroundings", and "Life & Lifelessness", together with the development of the hypothesis of "Clouds".
Cultural languages, belief structures, and identity politics draw my effort to construct a description of the artistic vision and make visible the way these non-neutral interfaces contribute to the imperishable cultural imaginaries and elucidation to possibly render the uncertainty of our present situation.
When contemplating "Us" in Hong Kong, I wonder how the "Hong Kong Journey" will advance in the future. My research illustrates to me a picture of the striving spirit of the past generation and helps reflect on the wider aspect of the way an individual grows and a cultural community develops over time. How should we define that reflection on time, struggles, achievement, or failure to become who we are now and/or in the future?
JC Jessie
---
About JC Jessie
Research-based Interdisciplinary Practitioner, Intangible Cultural Heritage Carrier, Seminar speaker & Curator
JC Jessie's belief in the power of narrative lies in one's somatic history which carries the cultural marks of one's DNA origin to be spiritually and physically manifested to realize individual and social representation of " self ". Her works become a platform to transmit a particular visual narrative into a contemporary context.
Being a visual storyteller, Jessie exercises " The Ancient into Now", " East meets West" and "Multimedia Exploration" concepts into her works, through the gendered self to unroll and question one's traditional, both realistic and surrealistic boundaries, cultural symbolism and the dichotomy between formality and freedom, natural and artificial, ancient and contemporary which its relevance may implicate in a broader social and cultural ambiance.
Rooted in one of the Intangible Cultural Heritage in Hong Kong, Jessie carries a strong linkage between her family ties & Cantonese Opera Costumes. Her academic research and documentaries contributed to the Hong Kong Heritage Museum Archive and the publication of the Museum of Anthropology, UBC Canada. Since 2015, she has been invited to speak at various public seminars at the Hong Kong Culture Festival, the Chinese University of Hong Kong Centre for Chinese Classical Learning, the Museum of Anthology Canada, Hong Kong Intangible Cultural Heritage Office, the Hong Kong International Youth Artists Society, and more.
Jessie obtained a Master's Degree in Fine Arts at the Chinese University of Hong Kong and a Bachelor's Degree in Fine Arts at York University, Canada. Her study at McGill University, practice in Southern France, and residency in Spain strengthened her pursuit in art creation. Currently, she actively promotes cultural heritage in various art projects of both local and overseas boundaries. Her painting remains her inspirational incubator and received recognition at The Sovereign Art Foundation & Phillip Charriol Foundation whereas her digital artworks received numerous awards at International Film Festivals.