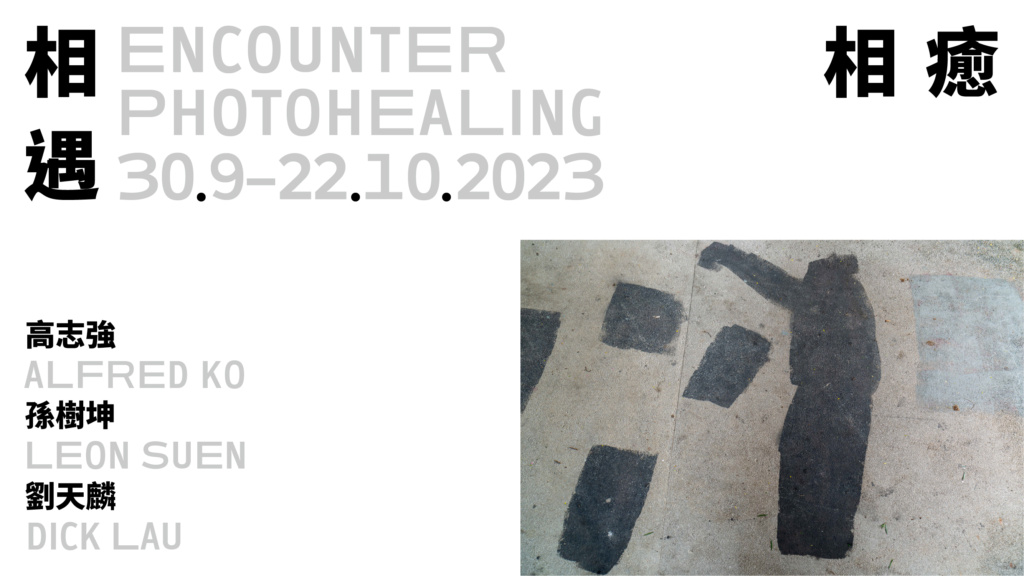 Encounter・Photohealing
Alfred Ko, Leon Suen, Dick Lau Photography Exhibition
2023.09.30 – 2023.10.22
Address: Lumenvisum|L2-02, Jockey Club Creative Arts Centre, 30 Pak Tin Street, Shek Kip Mei, Kowloon
Opening Reception: 2023.09.30, 16:30-18:00
Artist Sharing: 2023.09.30, 14:30-16:30
---
Encounter, Photohealing
From encounter to healing. For the past few years, Hong Kong and the world have experienced so many changes. From global polarisation, social differentiation, and economic recession; to the pandemic, Russo-Ukrainian War, and emigration wave. We find ourselves powerless in the face of these situations, and a deep sense of helplessness surrounds us. These feelings of powerlessness also bring varying degrees of trauma. How can we heal these inner wounds amidst this challenging era?
Three Hong Kong photographers, each with their unique perspectives, employ the medium of photography as an art expression and share their healing journeys with the public. Their process begins with adapting to various changes, and then to making spontaneous images. Allowing the audience to enter their artistic world and inviting them to see from the photographers' perspectives. This exhibition aims to encourage the public to express their deepest emotions using the photographic medium. To heal from trauma, and photograph to heal.
---
About artists:
Ko Alfred Chi-keung
Born in Hong Kong and studied photography at the Banff School of Fine Arts in Canada. Ko founded the FOTOCINE School of Photography and the Photo Centre in late 70s and he was named 'Photographer of the Year' by the Hong Kong Artists' Guild in 1992.
Leon Suen Shu Kwan
Is a retired veteran photojournalist and photo editor, two times chairman of the Hong Kong Press Photographers Association, presently is the founding member as well as the Director of the Hong Kong International Photography Festival. Suen is also the co-founder of Lumenvisum. While focusing on photography education and its promotion, Suen works as guest lecturer in the Post-graduate School of Journalism Department of the Hong Kong Baptist University.
Lau Tin Lun, Dick
Born in Hong Kong, Director of the Hong Kong International photography festival, photography tutor of Government Social Welfare Department youth probationers, Ebenezer School's photography project for the visually impaired , Arts with the Disabled Association HK project for Beyond sight photography workshop, Asia society Hong Kong project for Cisually in the dark and Hong Kong Arts festival X No Limits education and community program tutor and exhibition Curator. Group exhibitions participated include Kwun Tong Redevelopment Documentation Project Exhibitions (Lumenvisum, 2010-2018), A group exhibition at Eslite book store Hong Kong in 2013, "Photo Reading Room" (JCCAC, 2014) and "1000 families" exhibition by Hong Kong International Photography Festival 2016 ( Artistree Taikoo Place). "Home" solo exhibition at Lumenvisum, 2019. Group exhibition "Memory Ownership" at Berlin AFF Galerie 2022. Works are collected by Hong Kong Heritage Museum.